Founder Bio: Greg Nelson
First you learn, then you earn, then you give: Greg Nelson, businessman, has done that….
The year was 1970. Flared pants, platforms and tie dye were the norm, on the radio Moody Blues' hit album, 'Every Good Boy Deserves Favour,' was playing, and Greg Nelson, scholarship player from humble beginnings, was scoring big – reaching basketball's national title game against UCLA.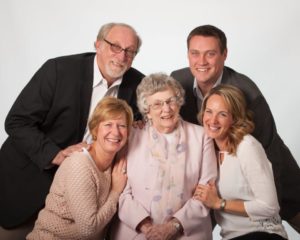 His Jacksonville University team's trophied-standings came from few expectations and galvanized the community. All eyes were on the championship game and many say it was the day Jacksonville stood still. One fact still remains, the university became the smallest school (in enrollment) to play in the finals of the NCAA Tournament.
As Greg neared graduation, he made goodbye-rounds to fellow students and faculty. For some reason, he couldn't say farewell to campus land along the St. John's River. Maybe it was just all the memories of sunsets he had seen along the river banks, or the many walks in the nearby woods. Whatever it was, he felt an ache. If he could, he would have bought an acre or two. As a poor student, he had no means.
Little did he realize then that he would claim the 60 acre spread on campus some 45 years after graduation. But it would take a lifetime of success as a father of six, a devoted husband, and a multi-business owner to realize his destiny and calling.
With three decades of solid performance in the health care arena, Greg became a non-stop consultant, manager, owner and operator of various businesses. Working in his native Midwest, he would govern a mid-size management firm that oversaw the skilled nursing industry.
That led to his ownership of a company comprised of 16 well-run skilled nursing facilities, and an effective group of people that oversaw operational success.
When he sold the highly-reputed operation in 2000, he could have easily retired. But he realized that he could help other health care businesses achieve their goals. Wherever he applied his hand, outcomes became successful.
On the home front, Greg assisted his aging parents and moved them into his personal residence. Over time, he believed they weren't getting the type of interaction and life-engaging activities that they needed. It became even more evident after his father passed away and his mother became less enthusiastic with life's daily routines.
Wanting the best for his mother, he searched for a facility near his Midwest home that could meet her basic needs. Out of many choice spots, he found bland institutions that looked like hospitals and very few served patients like family or in a manner that he found remarkable.
So in 2013he built a 51-suite assisted living facility, and added even more suites this year via a 30 suite memory care center. Bringing the luxuries of home, and an environment that was aesthetically pleasing and emotionally satisfying for the active and aging population, he found public acclaim. Soon it was filled to capacity and currently has a long waiting list – even in an area where there is much competition.
Greg could have rested on success. Instead, he has stayed committed to both enriching the lives of seniors and transforming senior living into cross generational experience that that enhances the lives of todays seniors and todays youth.